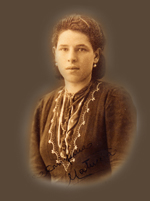 In the Seventies, Anaide made pastries because of her passion for them, and for her children. Her passion, and the fact that these pastries were so good, then motivated her to take her sweet treats, beautifully displayed in a basket, to the city to sell them in the shops of discerning connoisseur retailers.
That is how DOLCI AVEJA got its start, out of the passion of a mother. And, that is also why her sweet delicacies are so delicious.
Today, it is a small artisanal pastry company located in the L'Aquila province, at Cavalletto d'Ocre, just one kilometer from Onna, one of the towns most devastated by the earthquake of April 6, 2009.
Anaide's recipes then took center stage in the business's production, led by her son, Mariano Calvisi, and his wife, Maria Teresa Spagnoli, who are now the proud heirs to a tradition of high quality, respect for authenticity and careful selection of raw ingredients.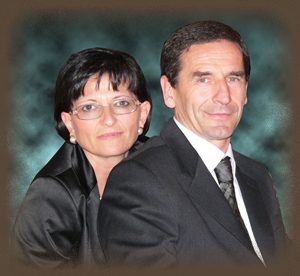 The best-in-class specialty of Dolci Aveja is the small soft almond and hazelnut delight that contains no preservatives  or fat and is in large part flourless, with a subtly not sickly sweet flavor. The classic recipes were gradually expanded with exquisite variations on the theme to create refined almond pastries with chocolate chips or covered in chocolate, infused with orange, lemon, or a delicious filling of whole black cherries, and pastries with hazelnuts and coffee or raisins, covered in chocolate fondant or milk chocolate, the list goes on.
With the same passion, Dolci Aveja has been selecting fruits, herbs, and roots for several years to produce sophisticated-tasting liqueurs that are typical to the Abruzzo region, without ever adding preservatives or coloring agents, and strictly adhering to fully natural techniques. In 2010, after a year that brutally interrupted the history of the city and the lives of the Aquilani people, Dolci Aveja launched production of the Aquila-style soft torrone hazelnut nougat confection, entrusting a new product of superior quality with the task of guiding it through a renaissance. Dolci Aveja then gave out complementary "goodies" (and goodies they are!) to its devoted customers: exquisitely beautiful chocolate Easter eggs with personalizable surprises, soft white almond torrone nougat confections, nocciolato chocolate-hazlenut bars, and delectable assortments of chocolates.
Because of uncompromising passion and tireless dedication, production has continued uninterrupted and, committed to ironclad standards, our business has succeeded in turning the page and looking ahead to the future.